Making the responsible decision to reduce your carbon footprint seems easy. But changing your lifestyle and energy usage can be more challenging. Who would have thought a ceiling fan could help? But it can! If it's the right kind.
To reduce energy consumption, most people focus on their consumption habits outside the home, including diet changes and opting for public transit instead of private cars. However, it's also important to think about the energy you consume in the home.
Ceiling fans, especially modern Energy StarⓇ certified ceiling fans, can be an excellent way to improve your home energy usage. Especially when it comes to climate control and lighting, we don't often think about how our home environment impacts our overall energy use. Read on to learn core benefits of energy-efficient ceiling fans.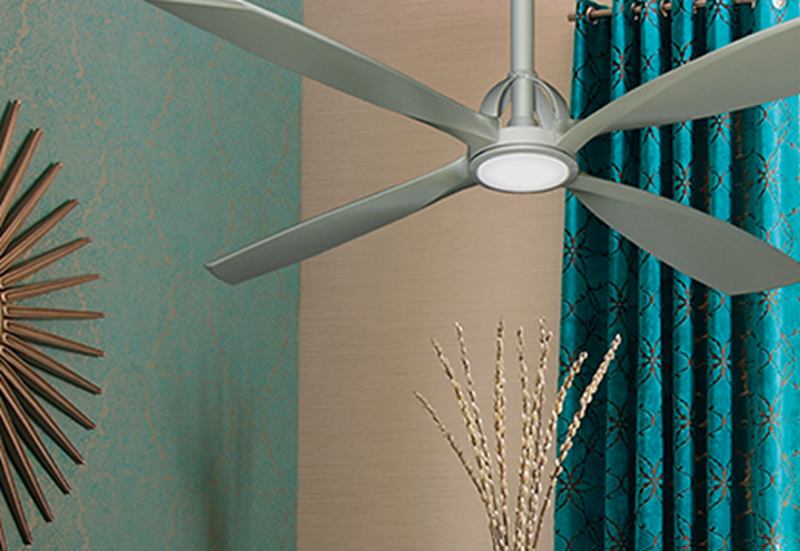 1. Cost Savings
If you're trying to lower your energy bill, installing ceiling fans in the rooms where you spend most of your time is a great start. Running your air conditioner takes a lot of energy, costing roughly 36 cents per hour to operate. Meanwhile, ceiling fans only cost about 1 cent an hour to operate. 
The air cooling effects come from air circulation improve comfort rather than actually reducing the temperature, meaning that higher temperatures are more comfortable and you don't have to use as much energy to keep your space comfortable. In fact, according to the US Department of Energy, using a ceiling fan in conjunction with your air conditioner allows you to increase your thermostat temperature by 4 degrees without compromising comfort.
This air circulation can also help keep your home warm in winter by reversing the rotation direction to circulate the warm air produced by your heater. Operating a ceiling fan in reverse creates an updraft. As heat rises, that updraft gently pushes warm air down to spread the heat through the room. 
2. Improved Lifespan
While you may have a ceiling fan in your home that seems to be functioning well, updating to a new indoor fan ensures that you're working with the most energy-efficient model available. Newer ceiling fans take advantage of developments in materials, technology, and efficiency that can help keep your home cool and maximize energy efficiency. 
Modern ceiling fans are available in both alternating current (AC) and direct current (DC) motors. While DC motors are typically more efficient, AC motors still only use roughly 100 watts at high speeds. Modern fans are also engineered and manufactured with sustainability in mind, helping you reduce wasted energy while keeping you cool and comfortable for years to come. 
3. More Effective Lighting
Adding a light kit to your ceiling fan helps centralize lighting in a room. In addition to saving space that might be taken up by lamps or other fixtures, you'll also save the energy that your lamps would have used and reduce your overall consumption. 
There are a few options available for ceiling fan light kits depending on your interests. LED light kids are great energy-saving options that offer low-profile design and rarely need new bulbs. Fluorescent and compact fluorescent lights (CFLs) provide another energy-friendly option that provides a variety of light temperatures in long-lasting bulbs.
Many of the light kits available at Dan's Fan City also offer the ability to use fixtures with standard bulb bases. With this option, your possibilities are endless—you can choose to use LED or CFL bulbs in place of incandescent ones. Standard base bulbs are appealing when compared to built-in fixtures because they're typically less expensive and more widely available.
4. Making Your Fan as Efficient As Possible
If no one is in the room, the ceiling fan doesn't have any impact on temperature or comfort, so be sure to turn off the fan when you leave the room to save power. 
Dust can also have an impact on your ceiling fan's efficiency by working its way into the motor housing and creating drag on blades. Dust your fan blades weekly with a duster, vacuum cleaner attachment, or a rag. An old pillowcase makes the perfect cleaning tool for fan blades, because you can insert the blade into the pillowcase and collect dust inside. 
5. Finding the Ideal Ceiling Fan
When it comes to making the most of a ceiling fan's energy-saving benefits, you need to choose the right one. Picking the best blade span and motor for your space can be tricky. Reach out to the experts at Dan's Fan City to learn about how ceiling fans can enhance your space and reduce your carbon footprint, and to get help choosing the ideal fan for every unique need.