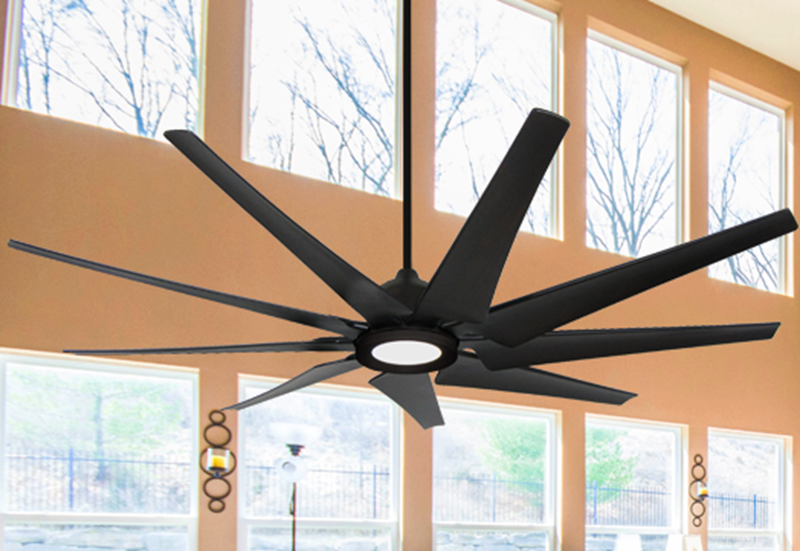 When choosing a ceiling fan to fit your home's exterior décor, an outdoor model is always the way to go. Unlike indoor fans, outdoor ceiling fans are specially developed to handle exposure to the elements without the risk of electrical shock or fire. The best outdoor ceiling fans should combine style and functionality and be a great addition to any outdoor space. Discover the importance of ceiling fan UL ratings and the difference between a wet and damp rated ceiling fan with this guide.

What's a UL Rating?
It's important to understand what a UL rating is to find the right fan for your outdoor needs. A UL, or Underwriters Laboratories, rating is an important consideration when choosing a fan. Ceiling fans are either listed as "indoor," "damp location" or "wet location," depending on a set of standards set forth by the UL. Consumers can use these ratings to better protect against the risks of electrical shock and fires.
While using an outdoor ceiling fan indoors is perfectly fine, an indoor ceiling fan should never be used outside. Choosing the right type of fan will help avoid electrical issues and ensure a prolonged life for your fan. Therefore, you need to ask yourself, "How much moisture will my ceiling fan likely encounter?" then choose an appropriate UL rated fan.   
Wet Rated Outdoor Fans
Wet rated ceiling fans are made to handle whatever is blown their way. These fans are coated with a special finish to help avoid rust, corrosion and motor damage. Keeping them clean is also a breeze, all you have to do is spray them with a garden hose to keep your fan looking new.
Additionally, wet rated fans typically have blades made from ABS plastic, a water-resistant plastic. If you're looking to place your outdoor ceiling fan in an uncovered area where rain, snow or ocean sea spray could make contact, then a wet rated fan is the best investment for you.
Damp Rated Outdoor Fans
Consider a damp rated outdoor fan if you need to cool a covered exterior space. While they are very similar to wet rated fans, the main difference lies in their ability to handle water. Although damp rated fans can't come in direct contact with water, they can handle high levels of moisture.
Because damp rated fans aren't intended to come into direct contact with water, there is a wider variety of style options available to consumers. Typically, they are made with wooden blades finished with a sealant, making for a higher-end look and feel. If you're looking to add airflow to a patio, gazebo, garage or even a bathroom, damp rated fans are the perfect solution.
Finding the right ceiling fan for your outdoor space can be tough, but it's important to make a well-informed decision. Use this guide when making your decision on whether a damp or wet rated outdoor ceiling fan is best for your space.
For more information or help determining what type of outdoor ceiling fan is right for your home, contact Dan's Fan City today.