You've worked hard to design a home that's as unique as you are. You might be concerned that a ceiling fan will detract from your meticulously-chosen decor, despite the many advantages they offer to keep your space cool. Luckily, at Dan's Fan City, we're just as obsessed with style as we are with efficiency and function. We'd like to introduce you to some of our most unique ceiling fans with specific home decor styles in mind.
Tropical Styling: The Palm Bay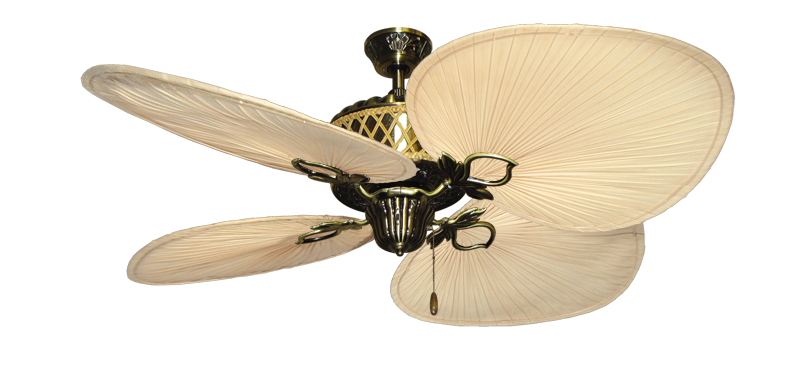 Turn any room into a tropical resort or antique oasis with the Palm Bay fan, featuring natural palm blades and woven bamboo detailing. This fan brings together modern energy efficiency with vintage style, perfect for any classic Florida home. This fan's exquisite design includes details such as a decorative bottom plate and scalloping along the motor top and switch housing. It's a truly unique style that can only be found at Dan's Fan City.
Mission Styling: The Madeira
Perfect for Mission-styled and more rustic homes, the Madeira fan in oil-rubbed bronze brings a touch of warm color while cooling any room. The Madeira ceiling fan brings together the warmth of natural hickory wood and craftsmanship of oil-rubbed bronze to create a unique hybrid motor housing that pairs perfectly with a variety of blade finishes and lengths.
Mid-Century Modern: The Mustang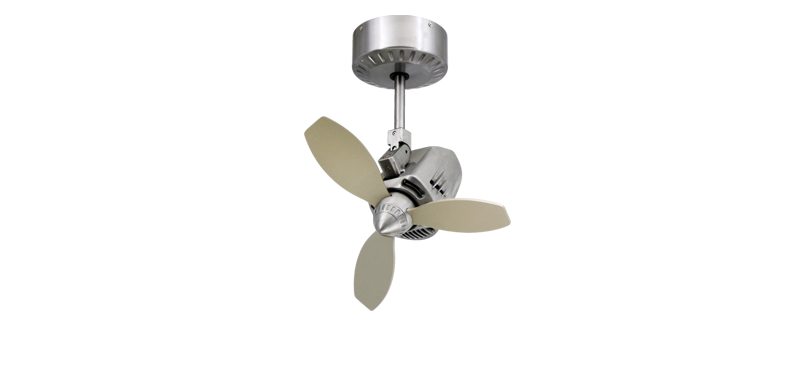 When it comes to unique ceiling fans, few styles match our Mustang line for stunning design, function, and cooling capability. Available in an oscillating mount, the design of the Mustang motor housing is based on World War II fighter planes, making it the perfect accent to cool any retro, mid-century styled rooms. The unique, sleek styling with vintage detailing is sure to be the perfect centerpiece to your space, and the oscillating movement helps cool rooms of all sizes.
Farmhouse Design: The Dixie Belle in Verde Green
Our Dixie Belle fan is available in a variety of finishes, but the Verde Green is one of our most unique ceiling fan finishes. The finish mimics the look of natural weathering on galvanized metal, bringing a subtle pop of color to any farmhouse-style space, inside or out. When paired with neutral blades, such as the antique white finish, this unique ceiling fan becomes the perfect down-home accent to whitewash, shiplap, and other farmhouse decor staples.
Ultra-Modern: The Vogue Fan
If you prefer sleek, modern styling with clean lines and a futuristic look, you don't have to compromise and get a traditional ceiling fan. The Vogue ceiling fan, also available in the Vogue Plus model with a built-in LED light kit,  is one of our most unique ceiling fans available. Available in three finishes to match any decor, the fluid curves and delicate balance make this ceiling fan as beautiful as it is functional, helping you cool the room without compromising your commitment to simple, minimalist styling.
Grand Styling: Twin Star III
When it comes to grand rooms and wide patios with high ceilings, you need a fan that combines power and grace. The Twin Star III brings together two powerful motors with a dual mount to circulate air through spaces with open floor plans and high ceilings. Available in a variety of metal finishes, you can also choose from blades in a variety of lengths and materials, such as cloth, woven bamboo, palm, metal and wood. What truly makes this one of our most unique ceiling fans is the ability to adjust the angle of the motors from parallel to the ground to two other positions: a 90-degree angle perpendicular to the ground, and a 45-degree angle in between. This versatility lends to optimal cooling and a unique style.
Finding the Perfect Ceiling Fan
Choosing a ceiling fan for your redesigned room is like picking the perfect piece of jewelry for a special occasion outfit—it has the power to elevate a style to a whole new level. Accentuating your space while providing air circulation for comfort has never been easier. At Dan's Fan City, we have a wide range of unique ceiling fans perfect for any decoration style. If you don't see exactly what you're looking for in our inventory, you can design your own fan to combine elements you like into a one-of-a-kind ceiling fan for your unique space.