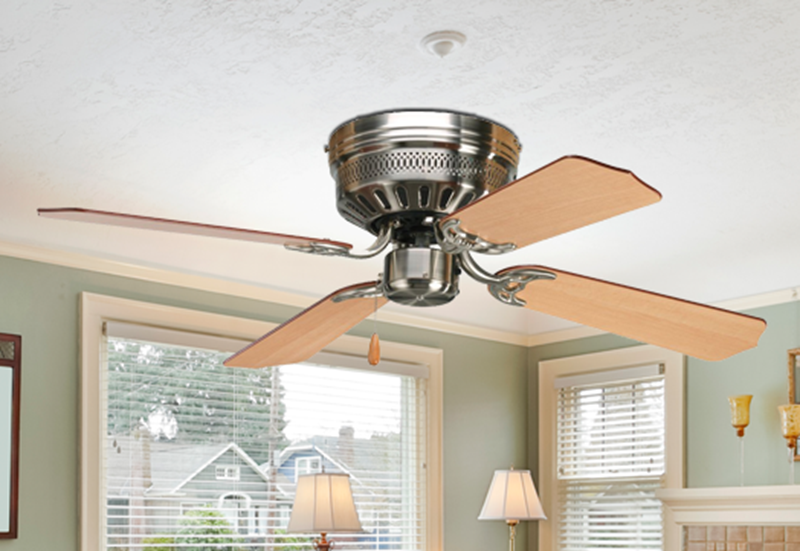 If the ceilings in your home are low, you may have completely crossed out the possibility of having a ceiling fan. Not to worry, because you can still enjoy all of the aesthetic and cooling benefits you want with a low-profile ceiling fan. Continue reading to learn everything there is to know about these innovative cooling machines.
What is a Low-Profile Fan?
So, you may be asking yourself, "what the heck is a low-profile ceiling fan?". Quite simply, low-profile ceiling fans are able to be installed much closer to the ceiling because they don't use a downrod. Instead, these fans are flush mounted to hug the ceiling. It's common for these fans to have blades with a slight curve towards the ceiling too, making them even more compact for those small spaces in your home.
When Do I Need a Low-Profile Fan?
If the room you're looking to place a ceiling fan in a room where the ceiling is less than 8', then you'll need a low-profile fan for a few reasons. As a general rule of thumb, the fan's blades should be at least 7 feet off the floor to prevent safety concerns. The tips of the blades must also be at least 30 inches from the nearest structure to ensure they don't hit and damage the walls in your home.
Do I Have to Compromise on Features?
The answer to this is no, absolutely not! As we mentioned earlier, when measuring the distance from floor to ceiling fan, the blades are specifically what must be at least 7 feet off the floor. That means you can still add a light kit to your flush-mounted fan without worry. Low-profile fans have come a long way and have many of the same features of a normal ceiling fan. Depending on what model you select, you can enjoy reversible motors, multiple speed settings, quiet motors, dimmable light kits and more.
A low ceiling or small room doesn't mean you have to give up on brining added airflow into your home. With a low-profile ceiling fan, you can feel the breeze and cool down no matter the size of your space. In addition we have a close-mount kit that will adapt any of our Gulf Coast fan models to a hugger style ceiling fan giving you even more possibilities for your home.  If you're unsure what size fan is right for your needs, we're here to help! The experts at Dan's Fan City can answer any questions you may have and find the perfect fan for you.
For more information on low-profile ceiling fans, contact Dan's Fan City today.