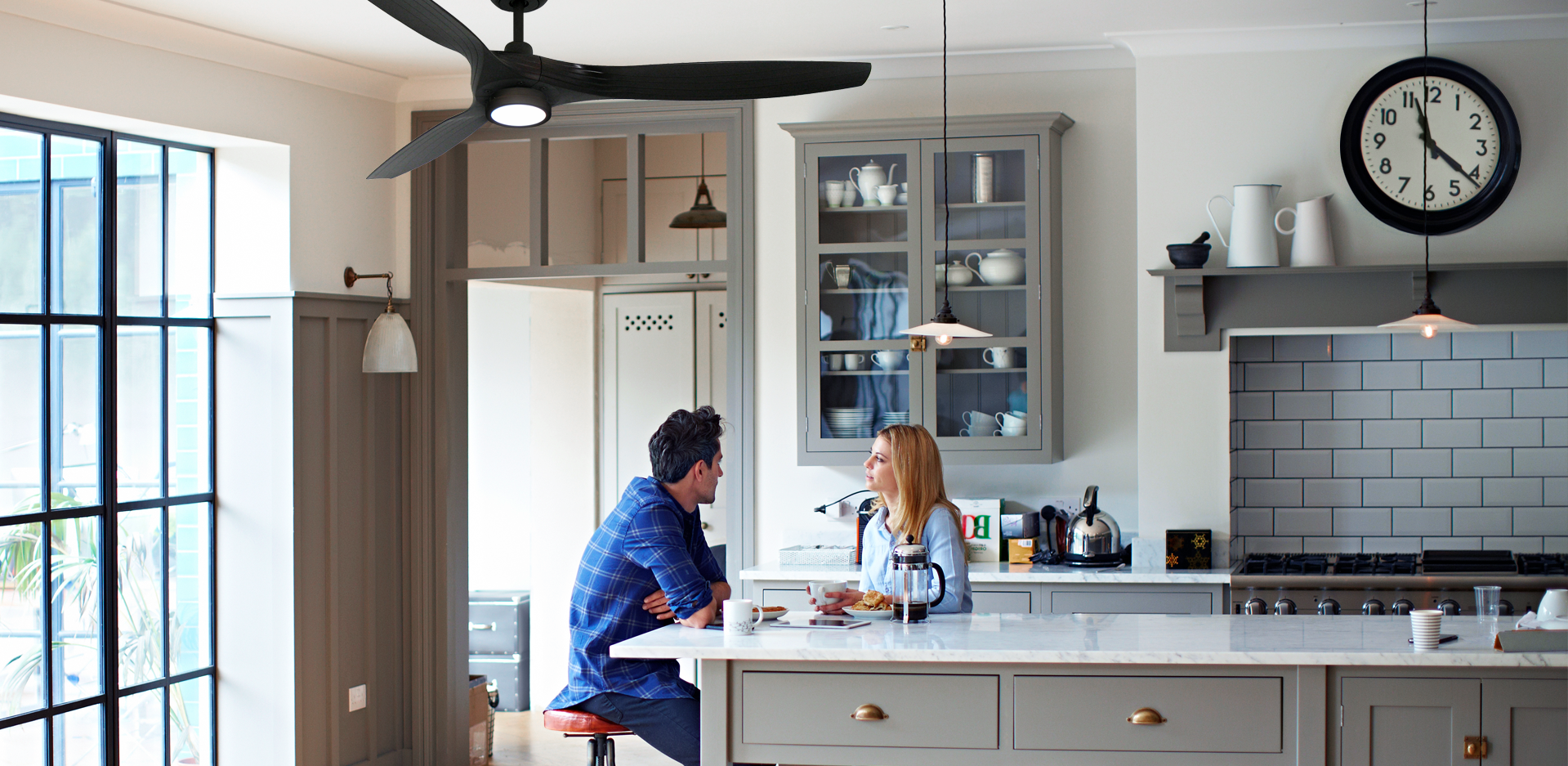 You've found the perfect style fan to complement your home's aesthetic, but what's the perfect size for its desired location? Finding a fan that's the right size for your bedroom or living room is no small task, but it is important for the longevity of your fan. A fan that is too small can burn out quickly from overuse, and a fan that is too large can lead to aggressive airflow. Utilize this guide to find the perfect sized fan for your home:
Small Rooms and Nooks
Smaller fans are perfect for the petite, cozy spaces in your home. Places like nooks, hallways, stairwells, laundry rooms, walk-in closets and half bathrooms that are 6'x 6' or smaller can all benefit from a 15" to 31" fan for added airflow.
Child's Bedroom
Rooms that are 8'x 8' or smaller need a fan with a blade span of 31" to 36". Installing a fan of this size can make your kid's bedroom or recreation room a cool oasis.  
Home Office
If you're looking to refresh a small bedroom or guest room, home office, den or full-size bathroom, choosing a fan whose size is between 36" and 44" is ideal for optimal airflow.  These rooms are typically around 10' x 10' in size. Adding a fan to these rooms can also help them appear larger.
Master Bedrooms
12' x 12' to 16' x 16' is a medium-sized room and calls for a fan whose sweep size falls in the middle. This is the typical size for most standard bedrooms and kitchens. 52" is the standard sizing for most fans, and one this size will fit perfectly. If you are looking for added airflow, however, you may also consider a fan whose sweep reaches up to 58" to keep you feeling breezy. 
Large Living Rooms
Looking to add pizazz to an 18' x 18' family room, large living room, or outdoor patio? A 56"to 60" fan is big enough to fill the space and add natural airflow to your space. Remember, avoid getting a fan that is small in relation to the desired space, as a disproportionally-sized fan will not have enough airflow to keep you comfortable.
Wide Open Spaces
For rooms that are grand in size, choosing a fan between 58' to 80' is ideal. This is perfect for rooms 25'x 25' or larger. A fan with an 82" or 84" sweep is enough to provide comfortable airflow to rooms up to 30'x 30' in size.  Spaces larger than this would benefit from multiple fans.
Choosing the right sized fan will ensure your home is aesthetically pleasing while achieving the right temperature to keep you feeling serene. Before you purchase, consider these options so you can choose the right fan for your needs.
For more information or help determining what size fan is right for you, contact Dan's Fan City today.